Welcome to the Craigmonie Centre.
This community centre, integrated with Glen Urquhart High School in Drumnadrochit, has a wide range of
facilities
including 200 seat Theatre, Games hall, Meeting rooms, all weather floodlit pitch, Public Library, Fitness Room, and more. Only 14 miles from Inverness on the A82 by Loch Ness. With a range of Youth activities, Adult education and a quality Arts programme there is something for everyone.
The Craigmonie Centre looks forward to welcoming you.
Check out the Events Calendar, 'Whats On' or Club Activity Pages (see left) to see what you can do this year at the Craigmonie Centre! To see what other arts and entertainment events are happening in the Loch Ness area in 2014 follow this link
---
COMING SOON !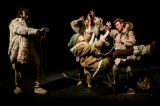 Where the White Stops
Thursday 27th November 7.30pm
No-one's been into the White before. Except Crab. Battling against icy blizzards and mythical beasts, Crab leaves the safety of her village to journey across a vast and desolate frozen landscape……
2015:
Titus Feb 6th - Watch this space!
The Boy with the Bunnet Feb 25th - Details coming soon!
---
Craigmonie Craft Club Click HERE
---
Classes for Autumn / Winter include:
Drawing Course, Painting with Acrylics Course, Weaving workshops, Woodcarving workshops and more.
Click HERE for more details / how to book.
---
Every Tuesday For more information email Fran.davidson@highlifehighland.com Drop In Adult Education
Free- every Monday at the Craigmonie Centre from 4.30pm- 6.30pm. It's your one stop shop whether you want to brush up your CV, need help looking for employment, learn basic internet & computer skills, help with your Driver Theory sessions, learn how to set up a spreadsheets and dfatabases for home, hobby or small businesses or intro to digital photography just come along. Open to all ages from 18 to 108. Drop in - no need to sign up.
---
Bootcamp with Gavin Heath
No needs to pre-register, just come along!
Mondays 6.30pm-7.30pm Men and Women
Wednesdays 6.30-7.30pm Ladies Only
£3 per session - pay as you go
email Gavin on GavinHeathPT@sky.com for more info
---
Glenurquhart Karate Club - Karate for Adults and Teenagers
Fridays : 6.30pm to 7.30pm (Seniors / Adults)
For further information: contact
Dolina Ross: 01463 233083
4th Dan Black Belt with over 30 years experience. 12 years Scottish Champion and 4 years British Champion in team & individual events
---
On Now!
DVD Dance Workout for Women & Girls
Tuesdays 7pm - entry by donation
---